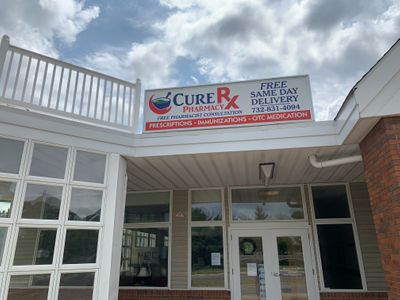 Cure Rx Pharmacy is an independently owned community pharmacy located Toms River, NJ, and serving the neighboring communities of Berkeley Township and Holiday City. Your one-stop-shop for all pharmacy and medical needs, we're dedicated to providing outstanding customer service at an affordable price.
Our store features a variety of offerings, including immunizations, free delivery, Dispill® multi-dose packaging, non-sterile compounding, durable medical equipment and COVID-19 testing. We accept all major insurances.
At Cure Rx Pharmacy, you can count on personal attention provided by our caring, professional staff. Visit us today and feel the difference being a community pharmacy makes.
Sharif Elmenchawy PharmD, RPh
Pharmacist in Charge
Providing individual attention to each patient and being there for them for any need is what matters the most.
Khaled Elmenchawy
Operations Manager
Committed to excellent customer service and providing an experience within the pharmacy that can be found at no other pharmacy.
Lisa Tammone
Pharmacy Technician
Warm and welcoming individual ready to go above and beyond to provide exceptional customer satisfaction.